---
As Trillium Health Partners (THP) research and innovation engine, the Institute for Better Health (IBH) is a core enabler of THP's mission of a new kind of health care for a healthier community. Through the application of scientific expertise, innovative thinking, and partnerships, IBH is uniquely positioned to be Canada's premier institute leading in learning health system research and innovation.
IBH has experienced remarkable growth and achievement and continues to excel in research and innovation activities that will help shape a healthier tomorrow. In January 2023, THP was recognized, for the first time, as one of Canada's Top 40 Research Hospitals of 2022 and top five Canadian hospitals in research funding growth by Research Infosource Inc., largely due to the work led by IBH.
IBH has had its most successful year-to-date in the submission and success of external grants, funding and awards. This year, IBH investigators submitted 29 competitive funding applications with a success rate of 58% for a total of close to $2.5M in grant funding. In addition, IBH scientists and investigators led 64 projects, published 297 manuscripts, and delivered 150 presentations locally, nationally, and internationally. IBH also increased its count of collaborating institutions by almost 300% and received numerous awards to recognize scientific excellence.
IBH has received a record number of philanthropic funding gifts from generous local organizations and donors this past year totaling over $25M in commitments to support our work in the years ahead. THP announced the ground-breaking $75 million gift from Orlando Corporation in March 2023, which will include $15 million to IBH to support and enable health system innovation. IBH also received a $5 million donation from Mrs. Elisabeth Hofmann to support the Learning Health Systems program and a $1,050,000 donation from Alectra to support a Clinician Scientist in mental health. In partnership with THP, IBH received a $5 million donation from the Longo Family Foundation to help contribute to the redesign of the mental health care delivery system at THP.
IBH shares THP's commitment to dismantling anti-Black racism and is actioning a plan created in partnership with IBH's Black staff and Anti-Black Racism Allyship Initiative (ABRAI) to support and advocate for work to address anti-Black Racism within and outside IBH. Through our project work, we have partnered with community organizations to understand and co-design solutions to create more equitable solutions that meet the diverse needs of the community.
Our accomplishments over this past year would not be possible without the continued support of our diverse and growing community, staff, patients, physicians, nurses, allied health professionals, learners, volunteers, and donors – thank you for your dedication to research and innovation as a means to improving health care in our community and beyond to create a more inclusive tomorrow.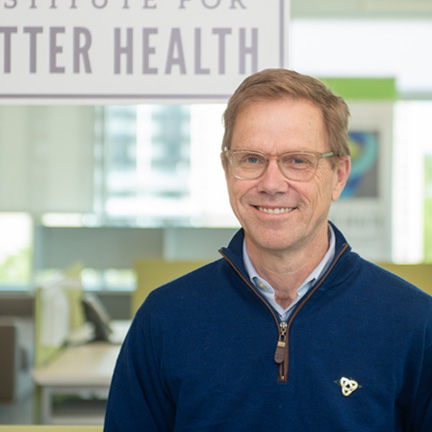 Robert Reid, MD, PhD
Chief Scientist, Institute for Better Health
Hazel McCallion Research Chair in Learning Health Systems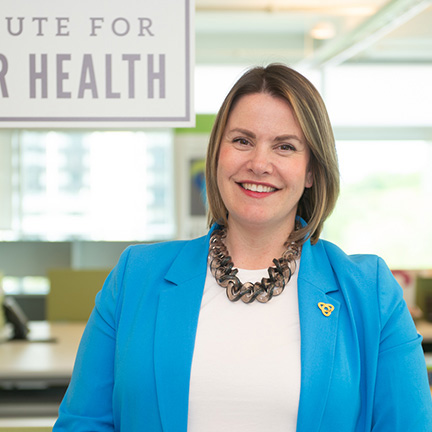 Simone Harrington, MBA
Vice-President, Institute for Better Health
Read More
Delivering a Healthier Tomorrow Through Research and Innovation Excellence
IBH continues to attract internationally recognized scientific and innovative talent and this year, many of these exceptional leaders in their respective fields were recognized with prestigious awards.
A few awards of note, Dr. Lisa McCarthy, Clinician Scientist, was the senior and corresponding author of the paper, "Evaluation of a Common Prescribing Cascade of Calcium Channel Blockers and Diuretics in Older Adults with Hypertension", which was selected as the top-ranked 2021 IHSPR-CAHSPR Article of the Year Award. This award recognizes published research in a journal that significantly contributed to the advancement of the field of health services and policy research in Canada. Dr. McCarthy was interviewed by the New York Times and the paper was featured at several invited presentations, including the American Heart Association Hypertension. Dr. McCarthy and her team also received an additional award of $50,000 for the Canadian Institutes of Health Research (CIHR) Mid-Career Investigator Prize in Research in Aging for her newly funded project, "DIAL: deintensifying diabetes management for older adults in long-term care." The award recognizes the top two mid-career investigators with the highest-ranking projects in the Fall Project CIHR grant competition.
Dr. Laura Rosella, Stephen Family Research Chair in Community Health and Scientist, was awarded the C.P. Shah Alumni Award of Excellence in Public Health. The Public Health Students' Association (PHSA) award recognizes graduates of any of the academic programs offered by Dalla Lana School of Public Health at the University of Toronto who have advanced the field of public health in Canada.
Dr. Terence Tang, Clinician Scientist, was selected as one of AMS Healthcare 2022 Research Fellows in Compassion and Artificial Intelligence. Dr. Tang is using patient stories to explore how big data can be deployed to support compassionate care. The "AMS Compassion and AI" program focusses on promoting the integration of digital technology and compassionate care in the delivery of health care services, education of health professionals, as well as facilitating the leadership needed to realize the promise of technology.
Dr. Laura Desveaux, Science Lead and Learning Health System Program Lead, was the recipient of the Leadership Award from the inaugural Women Empowerment Awards. This award recognizes individuals who are seen as instrumental and influential leaders in business or their community, demonstrating how their personal leadership has led to business growth and development, or how they have impacted the quality of life in their community
IBH Vice President, Simone Harrington, was named as one of Canada's Most Powerful Women: Top 100 Award winners by the Women's Executive Network (WXN). Simone was chosen in the Mercedes Benz Emerging Leaders category for her passion and innovative leadership at THP and for her dedication to building IBH and its ongoing philanthropy success.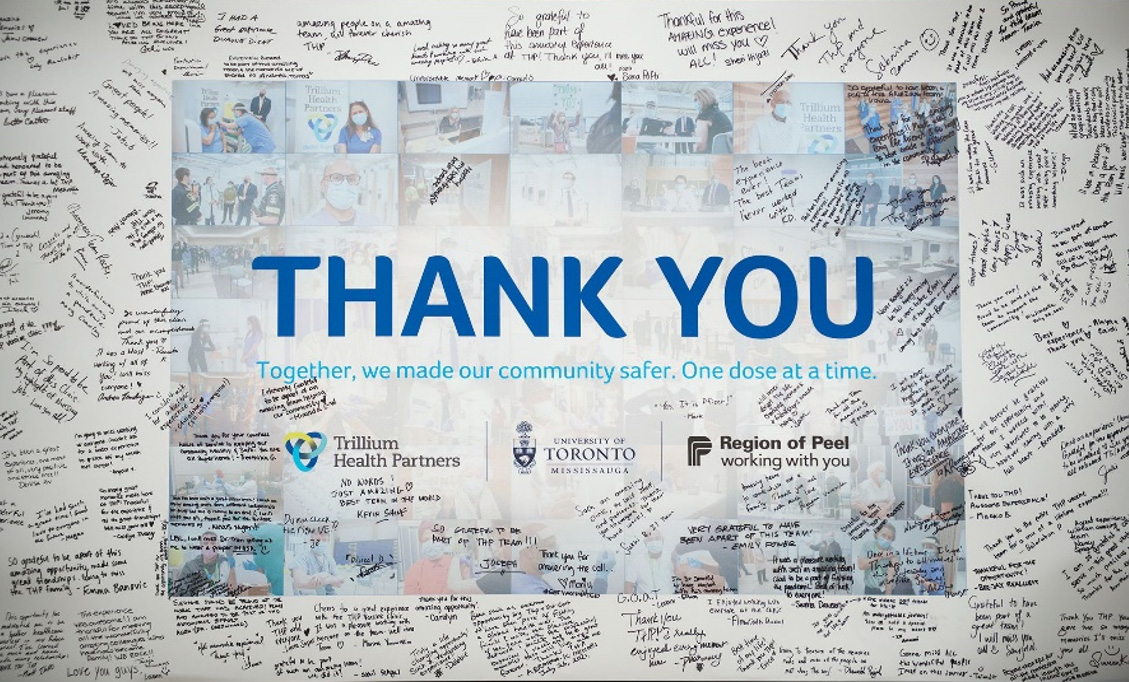 Thank you messages from staff, professional staff, volunteers and learners who supported Trillium Health Partners' COVID-19 vaccination clinic and efforts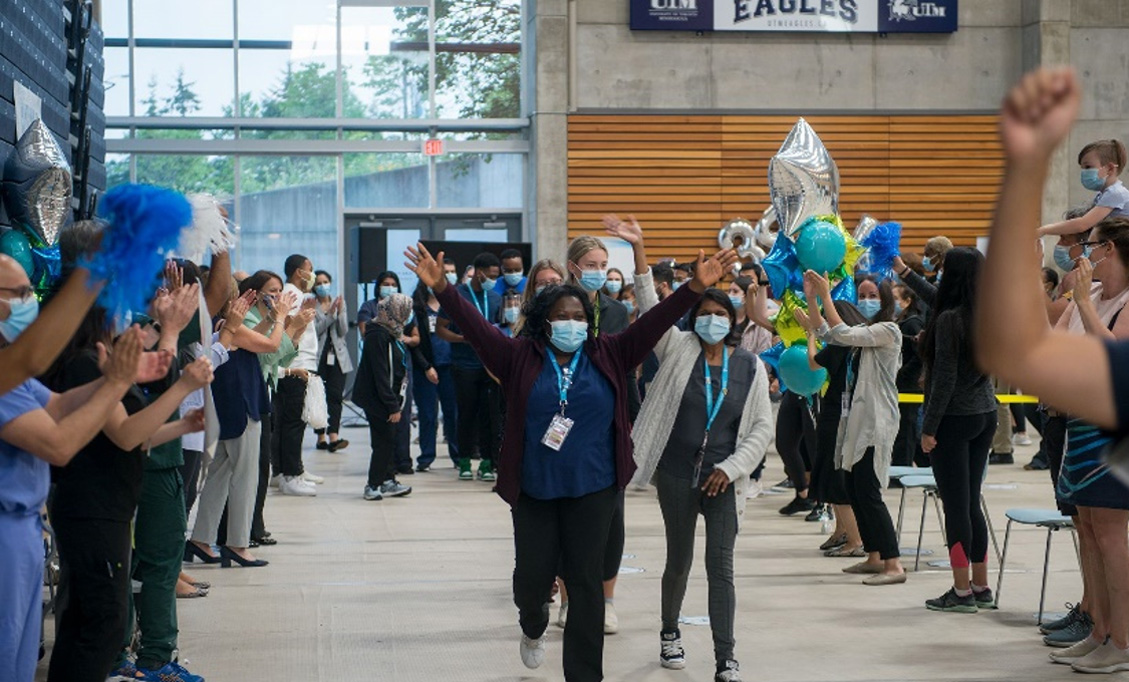 Last day of THP's Vaccine Clinic at University of Toronto Mississauga
Partnering to Build Capacity to Shape a New Kind of Health Care
Through the continuous efforts of the THP Foundation and generous community of donors, IBH is grateful to receive gifts and donations to continue to grow our infrastructure, resourcing and capacity to lead and support research and innovation in key areas that align with the needs of our community.
IBH recently launched the inaugural Learning Health System (LHS) Accelerator Grant program made possible through the generous financial support we received from Mrs. Elizabeth Hofmann. These grants will support key projects to engage multidisciplinary teams of scientists, research associates, students, and THP operational leaders to advance innovative and impactful research that helps answer key questions to improve the health of the community. The goal for this funding program is to catalyze new, emerging, early-stage research ideas that will provide the insights needed for larger co-design efforts, evaluations, and trials, while also building learning health system capacity. Six new projects were funded and are currently underway.
Earlier this year, IBH presented a keynote on the learning health system for the Ontario Strategy for Patient-Oriented Research (SPOR) Support Unit's (OSSU) Research Day. The team discussed an Ontario centered learning health system framework for use by Canada's SPOR researchers, learners and decision-makers and the presentation sought to ground attendees in the LHS approach and discuss how a LHS can be designed, implemented, and evaluated from the perspectives of researchers, health system operators, and beyond.
Launched last year, Mississauga Health's Seamless Care Optimizing Patient Experience (SCOPE) is a platform that promotes integrated and collaborative work between primary care, hospital services, and community health partners to serve patients with complex needs. Primary care providers registered with SCOPE can connect to internists, outpatient services, diagnostic imaging, home and community care, and other services through a single point-of-access using an innovative virtual care model. Additionally, IBH launched a program called Virtual Long-Term Care last year that has since expanded to five long-term care homes and has supported more than 112 virtual general internal medicine visits and consults, and expedited seven diagnostic imaging visits with an emergency department avoidance rate of 25%.
The IBH Data Platform has supported the development of an artificial intelligence (AI) model to improve hospital operations with a cutting-edge Canadian AI company, Signal1, which is scheduled to be completed this year. In phase one of this project, the IBH Data Insights and Advanced Analytics team loaded two years of de-identified patient data from Epic to a secure, governed Amazon Web Services (AWS) data platform and provisioned an environment for the Signal1 team to train and refine their model. In phase two, the model will be moved into operations to improve patient flow and discharge planning, reduce delays in care, and free up inpatient beds for those who need it.
THP's innovative mental health initiative, Project Now has relaunched with a broader vision to support the Mental Health system through innovative initiatives starting with one population and expanding onwards. The project received approximately $10 million in funding through generous philanthropic gifts by the WB and Longo Family Foundations, as well as Ontario Health. The team is currently conducting a preliminary environmental scan and data analysis to identify current strengths and gaps in the system to inform redesign work and provide insights for areas of focus and scale.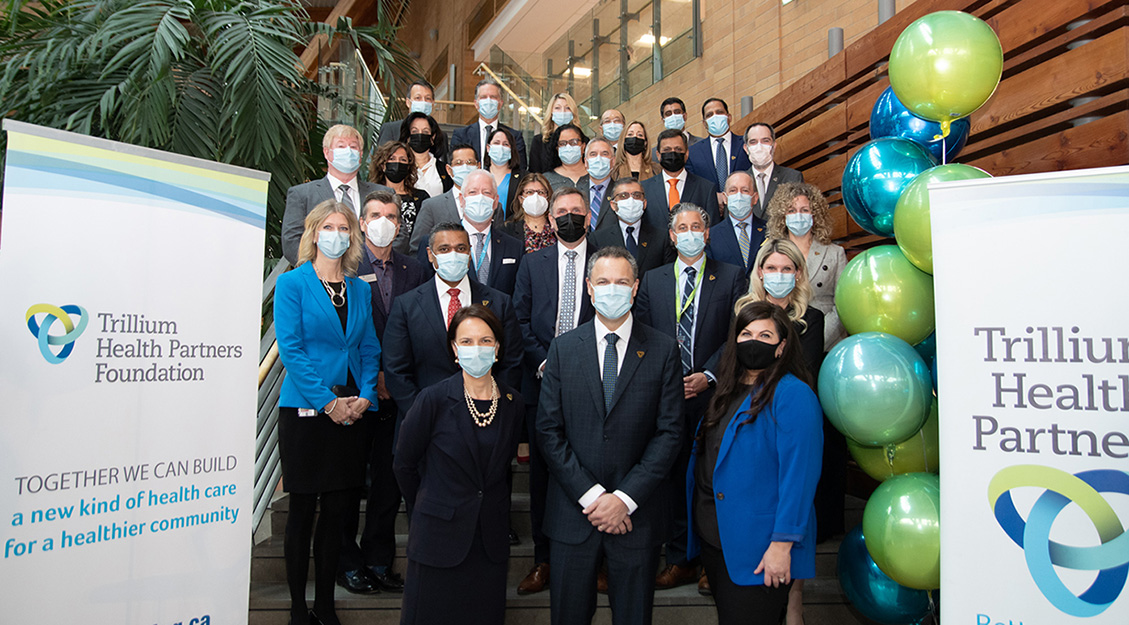 A celebration photo with Orlando Corporation leadership and staff and Trillium Health Partners/THP Foundation leadership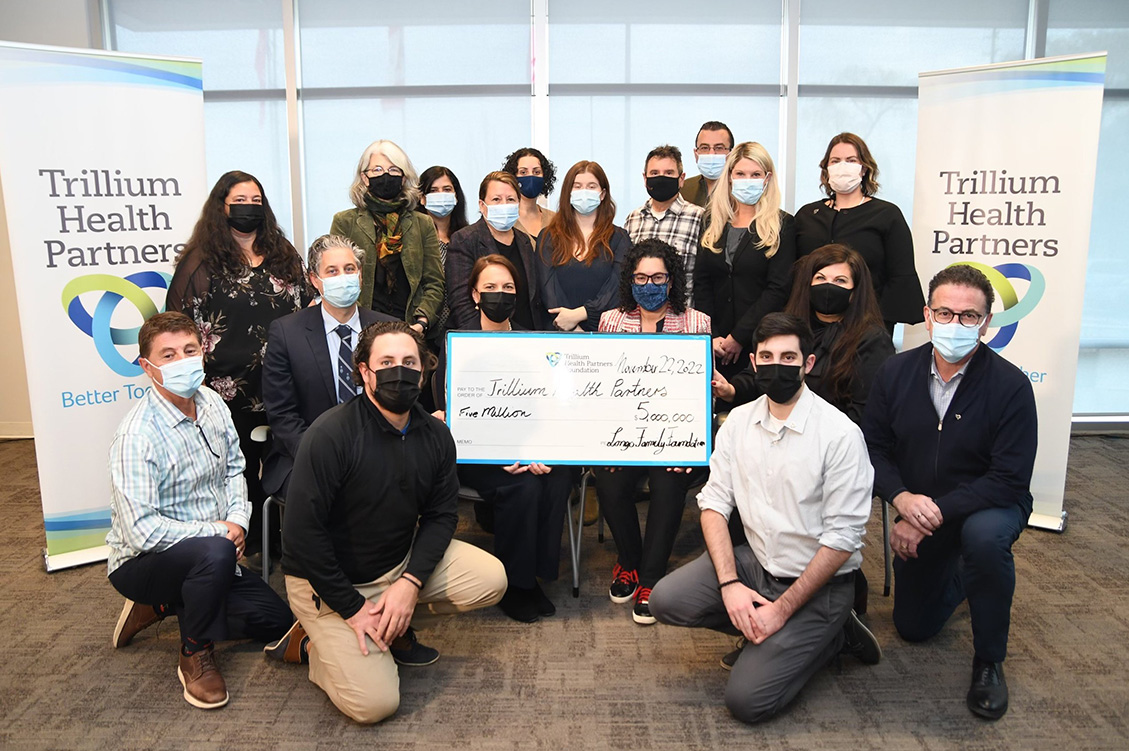 A celebration photo with the Longo Family Foundation leadership and Trillium Health Partners/THP Foundation/Institute for Better Health staff and leadership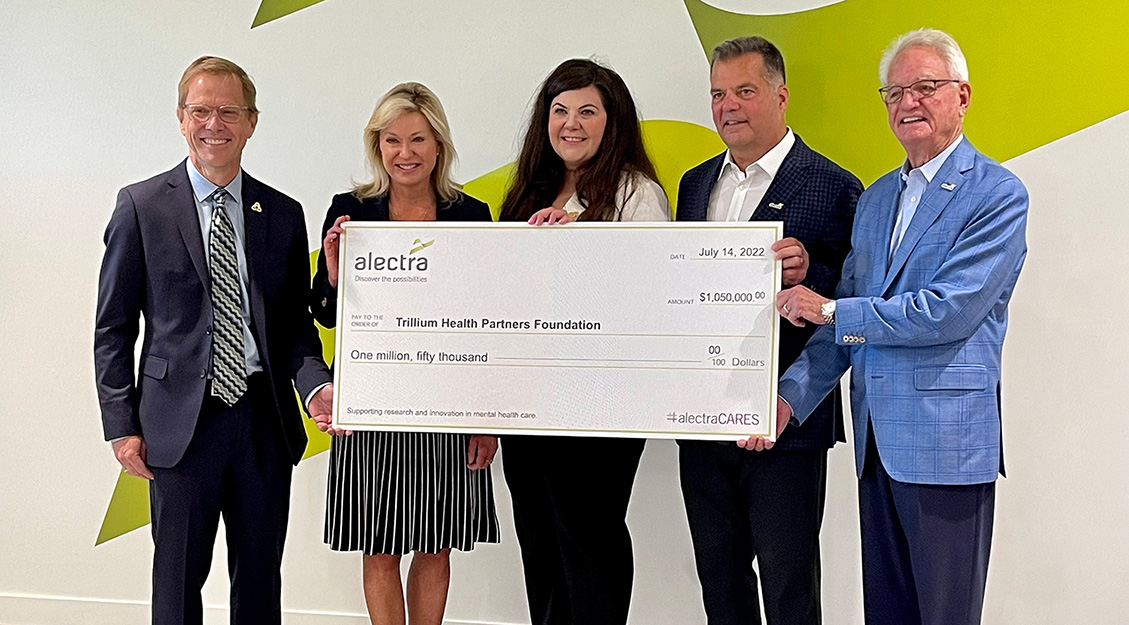 A celebration photo with representatives from Alectra Utilities Corporation and THP Foundation/Institute for Better Health leadership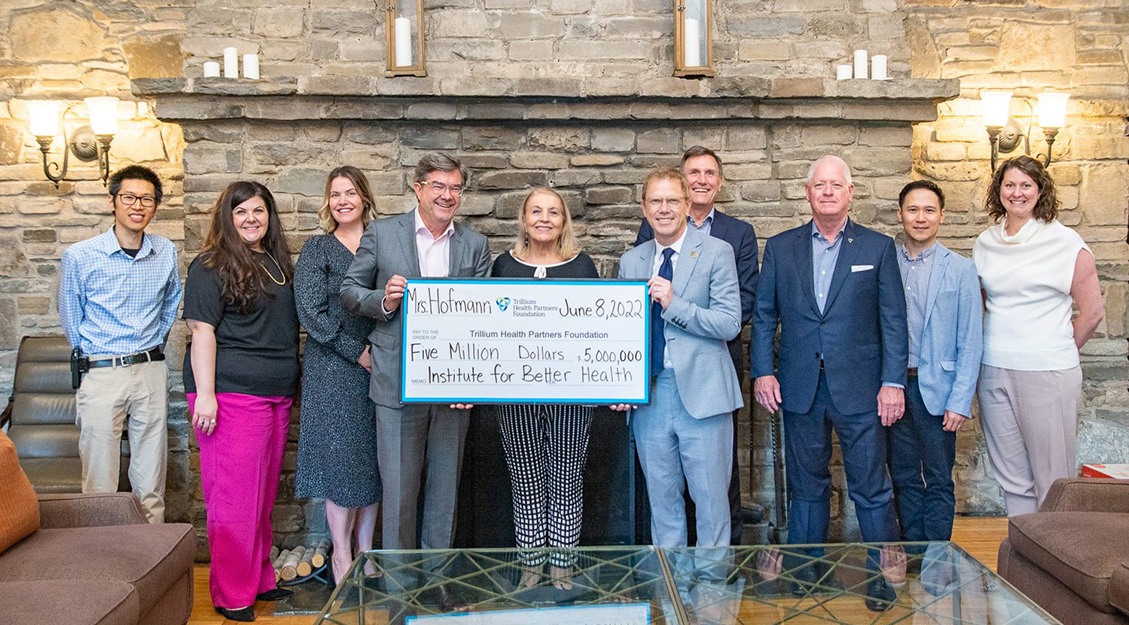 A celebration photo with Mrs. Elizabeth Hofmann and THP Foundation/Institute for Better Health leadership
Sharing Learning Health System Research and Innovation for Impact
IBH hosted several seminal events over the past year. The annual Hazel McCallion Lecture in Shaping Healthier Communities relaunched last November with an event focused on Health Equity in the Learning Health System: Insights from the Pandemic to Inform Better Health and featured keynote presentations from two renowned thought leaders in the area of health equity to provide both international and local perspectives, Dr. Lisa Cooper of Johns Hopkins University School of Medicine, Nursing, and Bloomberg School of Public Health and Dr. Kathy Hogarth of Wilfred Laurier University.
This past year, IBH Research and Innovation Rounds were relaunched and celebrated the accomplishments of the Medical Psychiatry Alliance (MPA) and shared learnings from innovative collaborative care programs for patients, families and providers to improve physical and mental health for the community.
The IBH team has been invited to deliver 150 presentations at key tables here at home and around the world to share thought leadership and scale learnings in learning health system research and innovation.
This summer, Dr. Elizabeth Mansfield, Scientist, Dr. Michelle Marcinow, Research Lead and their team, have been accepted to present their abstract, "Making sense of symptoms, clinicians, and systems: A qualitative evaluation of a facilitated support group for patients with medically unexplained symptoms" at the Canadian Collaborative Mental Care Conference in Quebec City. Dr. Mansfield and Chelsea D'Silva, Research Associate will also be presenting their abstract, "Recovery, empowerment and social inclusion: Digital storytelling as a creative, participatory pathway for engaging people with lived experience to improve collaborative care for diverse communities" at the conference.
Dr. Jeff D'Souza, IBH Investigator, presented, "Ethical considerations for introducing RTS, S/AS01 in countries with moderate to high Plasmodium falciparum malaria transmission" at the University of Oxford's Global Health and Bioethics International Conference last summer. Dr. D'Souza also continues his work on cervical cancer elimination, and recently published "Ethical considerations for the modification of routine human papillomavirus immunisation schedules" in The Lancet Oncology, an ethical framework on the importance of equitable access to HPV vaccines for women and girls in low and middle-income countries.
Mehdi Somji, Director, Innovation & Partnerships, spoke at the Healthcare Infrastructure Showcase 2022, where the focus was on using digital and technology applications for a more sustainable, integrated and patient-centric health care system. The conference provided opportunities to hear from key leaders in Canadian health care as they share their journeys to successfully implementing digital and smart solutions throughout their health care organizations.
Dr. Laura Desveaux, Science Lead and Learning Health System Program Lead recently presented, "Strategies and Tactics for Leveraging Data to Drive Performance Improvement"as part of the Career Advancement and Leadership Skills course at Harvard Medical School last November. This professional development program delivers evidence-based strategies, skills development and education that help women at various stages of their health care careers step into and succeed in leadership positions.
Dr. Benjamin Fine, Clinician Scientist, Farbod Abolhassani, Data Engineer and Dr. Mohamed Abdalla, Assistant Scientist, of the Artificial Intelligence (AI) Deployment & Evaluation (AIDE) Lab participated in a global AI competition hosted by the Federal University of São Paulo. The goal of the competition was to build an AI model to classify body parts in an X-ray image. Using a data first methodology, instead of focusing on model architecture, The AIDE lab, placed in the top ten amongst 115 teams from all over the globe.
Dr. Robert Reid, Chief Scientist and Hazel McCallion Research Chair in Learning Health Systems, recently participated in the Ontario Health Data Council (OHDC) and facilitation of the Health System Use Working Group. The Honourable Dr. Jane Philpott, Minister of Health, recognized the importance and impact of Dr. Reid's active contributions and that his involvement, invaluable insights, and recommendations will help to transform Ontario's health data ecosystem for the better.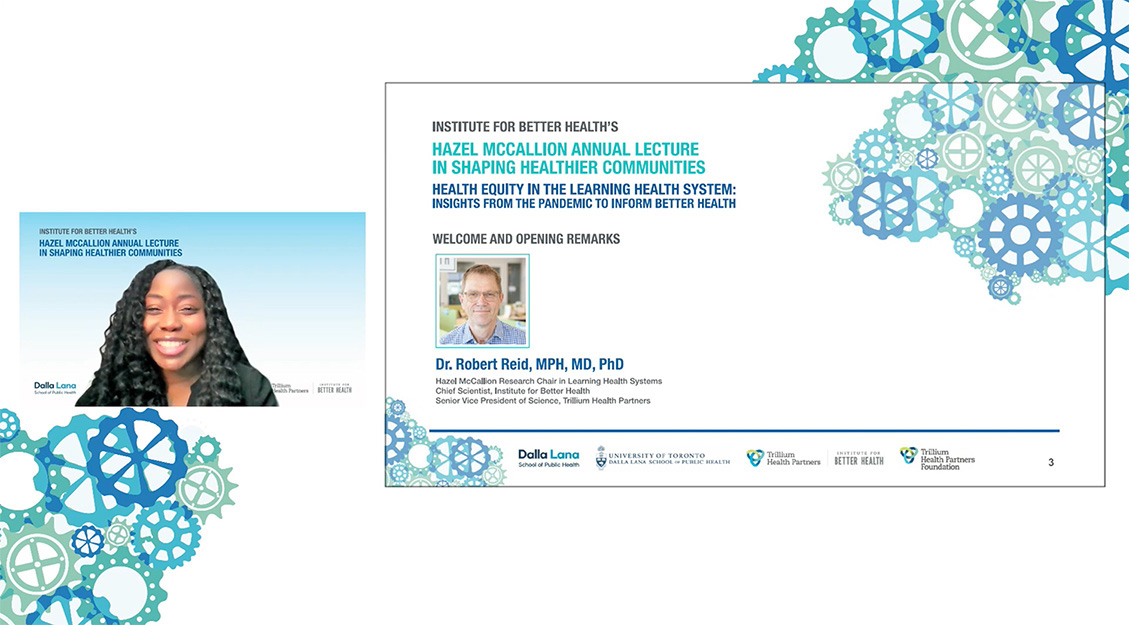 Screenshot from the 2022 IBH Hazel McCallion Lecture in Shaping Healthier Communities virtual event of Delilah Ofosu-Barko, Director, IBH Operations introducing Dr. Robert Reid, Chief Scientist and Hazel McCallion Research Chair in Learning Health Systems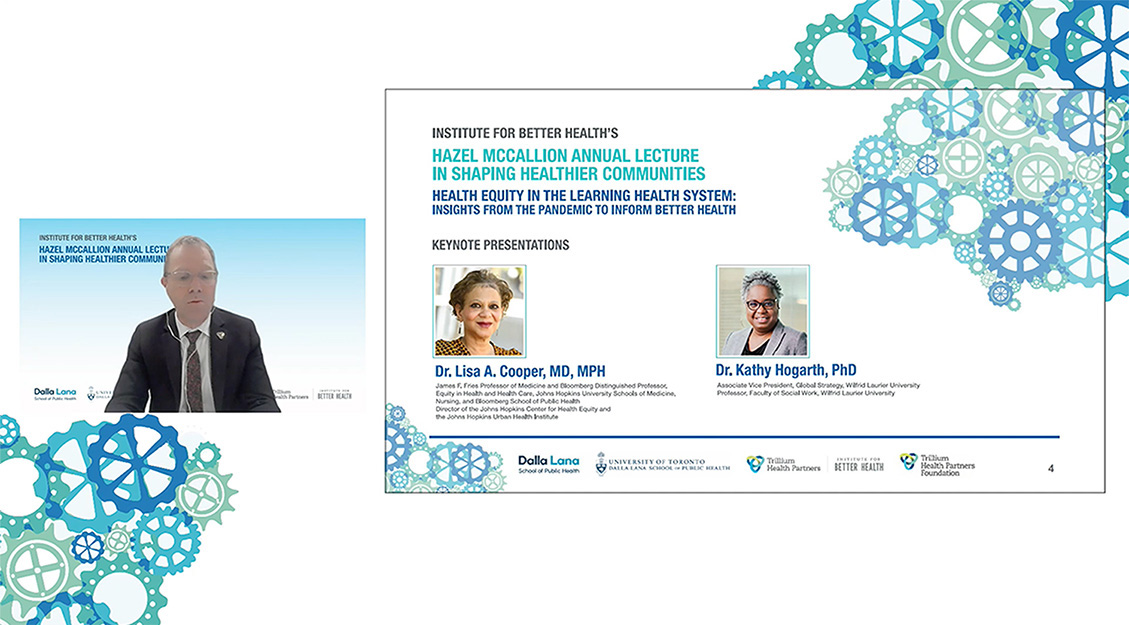 Screenshot from the 2022 IBH Hazel McCallion Lecture in Shaping Healthier Communities virtual event of Dr. Robert Reid, Chief Scientist and Hazel McCallion Research Chair in Learning Health Systems introducing the two keynote speakers – Dr. Lisa Cooper, Bloomberg Distinguished Professor, Equity in Health and Healthcare, John Hopkins Bloomberg School of Public Health, and Dr. Kathy Hogarth, Associate Vice President, Global Strategy, Wilfrid Laurier University
Partnering for a Healthier and More Equitable Tomorrow
IBH is committed to population health and health equity to truly improve the health of the community we serve and create a better, more inclusive tomorrow. As an organization, we have renewed our commitment to creating an inclusive health care system through research and innovation and strengthening partnerships with our community.
To advance our work, IBH supports and partners with a variety of community-based organizations on health equity initiatives. Over the past year, the Family and Child Health Initiative (FCHI) team has continued to work alongside their community partners on several COVID-19-specific CIHR funded grants that focus on Collective Action for COVID-19 Recovery. The projects centre around lived experience and knowledge throughout every stage of the research process including community advisory boards and the hiring of peer research assistants.
For the project, Collective Action for COVID-19 Recovery: Co-Designing Physical Activity Interventions with you and Caregivers in Peel, the team used photovoice methodology to understand the experiences and impacts of COVID-19 restrictions on the physical activity of children, youth, caregivers and families including factors that protected or exacerbated these impacts. The project team is in the process of planning a knowledge translation event which will take place on August 12, 2023, to share findings and create collective action to design a more equitable and integrated health care system in Peel.
Dr. Dianne Fierheller, Assistant Scientist, has been working alongside community partners in Peel through the Anti-Black Racism & Systemic Discrimination (ABR-SD) Collective of Peel to develop the recently launched "Dismantling Anti-Black Racism and Systemic Discrimination – A Toolkit for Community Organizations in the Region of Peel". The toolkit is the result of a cross-sectoral collaboration of community agencies, institutions and individuals who are committed to dismantling systemic discrimination and eliminating all forms of racism from within their respective organizations and the broader Peel community. The toolkit ensures members of Peel are provided educational resources through organizations committed to promoting equity and inclusion and addressing racism and discrimination within their communities and will be a resource to support community organizations and individuals in their work toward racial equity and social justice.
To understand how best to implement technology in the real world, Dr. Terence Tang, Clinician Scientist is co-leading a project with Dr. Walter Wodchis, Trillium Health Partners Research Chair in Implementation and Evaluation Science and Senior Scientist and project team, to study the implementation of Epic's electronic health record system at THP. This research is aimed to help optimize the local implementation and to improve implementation of Epic in many hospitals across Canada.
Dr. Kerry Kuluski, Dr. Mathias Gysler Research Chair in Patient and Family-Centered Care and Scientist and her team are leading research that strives to understand the experiences, needs and service gaps of Alternate Level of Care (ALC) patients, caregivers, care providers and decision makers who experienced rapid hospital discharge and post-hospital services (i.e., primary care, rehab, home care, long term care) as a result of pandemic mandates. The goal is to co-develop care pathways to support safer, rapid transitions and outline the core components of care needed to support patients after hospital.
Dr. Kuluski and her team are also partnering with patients and caregiver partners, representatives from Ontario Health Teams (OHTs), researchers, and members of the Ministry of Health, to co-design a patient and caregiver engagement curriculum for OHTs. Through respectful collaboration, leveraging the power of lived experience, and navigating ambiguity and complexity, this team has launched the first 5 of 7 sessions including a session on communication and relationship building, bearing witness to lived experience, equity diversity and inclusion, navigating difficult conversations, and preparing for engagement activities.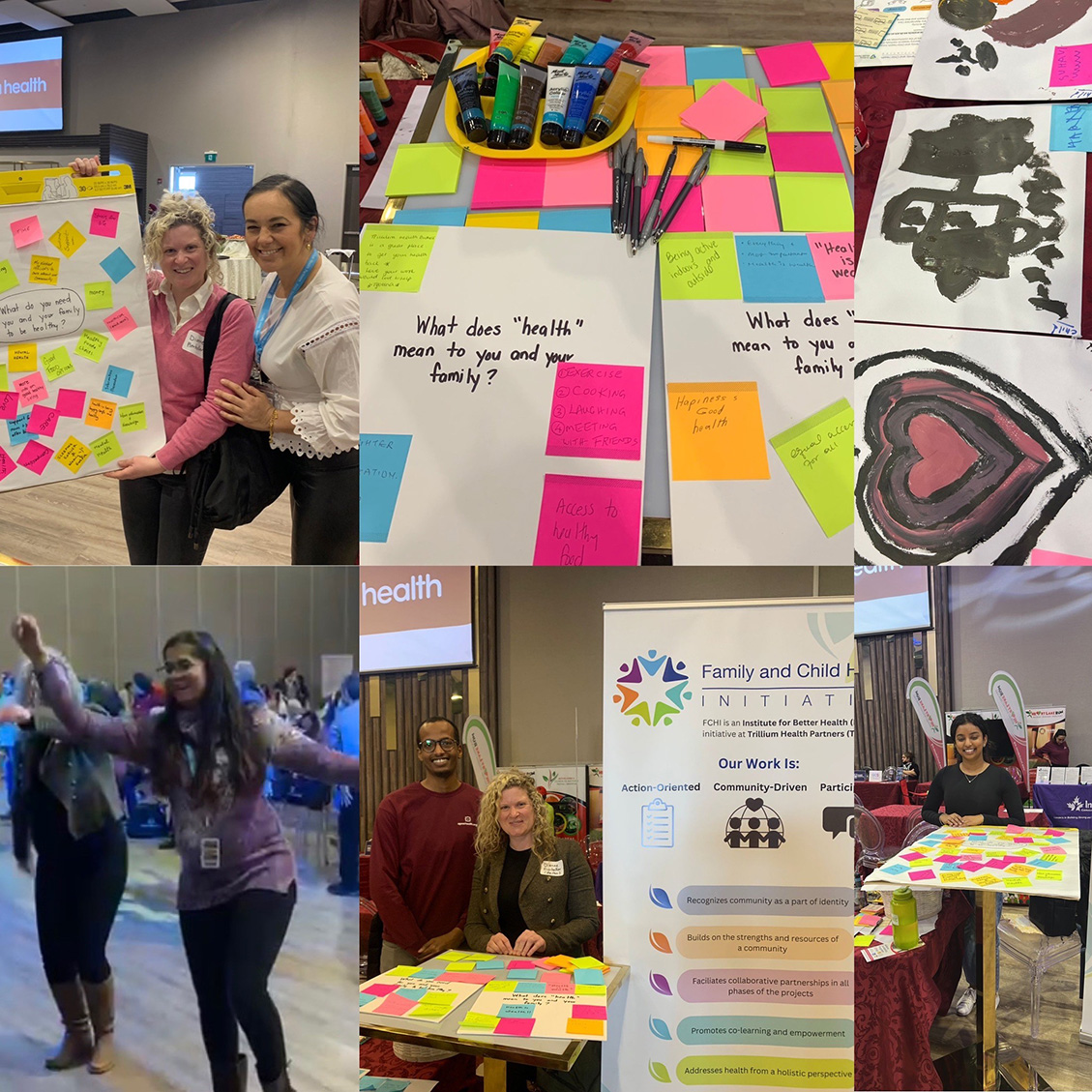 Collage from community fairs held by the Family Health Child Initiative team at the Institute for Better Health
Research and Innovation
by the Numbers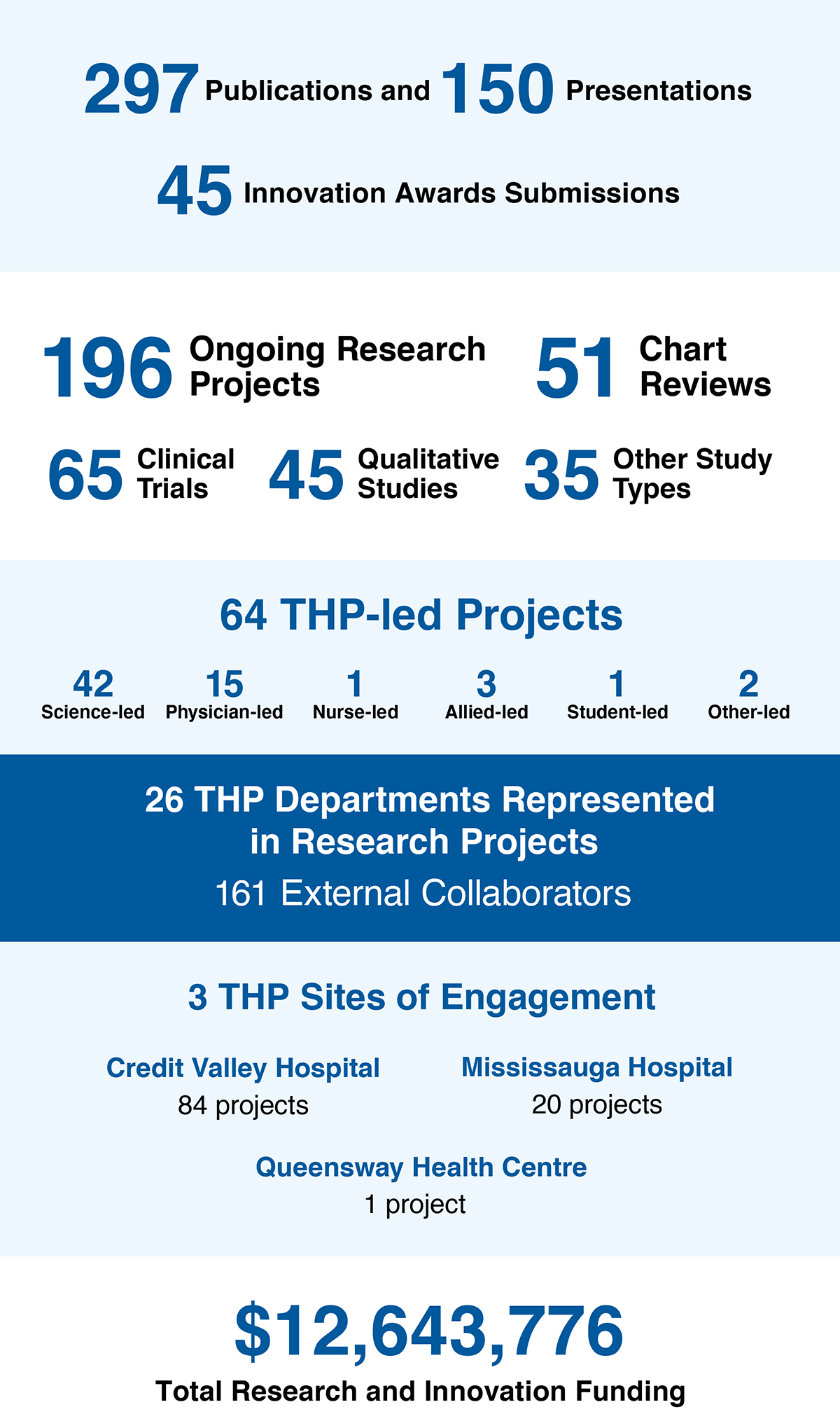 Trillium Health Partners
THP is committed to delivering high quality and exceptional patient experiences to our community of Mississauga and west Toronto.
Thanks to our Community and Donors
Working with our community and donors, Trillium Health Partners Foundation raises the critical funds needed to address the highest priority needs of Trillium Health Partners.